Today we celebrate girls around the world for International Day of the Girl. In 2012 the U.N. declared October 11th as The International Day of The Girl.  In 2016 Girls and women are still dispropotionately  facing discrimination, oppression, and subjugation around the world but a shift is underway.  With girls and women figured prominently into the Sustainable Development Goals as SDG 5, Gender Equality, the world seems to be waking up to the fact that  it is a problem to leave half the population behind. To educate a girl, is to educate a community,   when girls are excluded from the education process, a nation is cheated out of half of its full potential.
"Gender equality is not only a fundamental human right, but a necessary foundation for a peaceful, prosperous and sustainable world." – United Nations
Here are some facts from the UN:
About two thirds of countries in the developing regions have achieved gender parity in primary education
In Southern Asia, only 74 girls were enrolled in primary school for every 100 boys in 1990. By 2012, the enrolment ratios were the same for girls as for boys.
In sub-Saharan Africa, Oceania and Western Asia, girls still face barriers to entering both primary and secondary school.
Women in Northern Africa hold less than one in five paid jobs in the non-agricultural sector. The proportion of women in paid employment outside the agriculture sector has increased from 35 per cent in 1990 to 41 per cent in 2015
In 46 countries, women now hold more than 30 per cent of seats in national parliament in at least one chamber.
Only with equality can a community truly rise to its full potential. Girl are our future, and today we celebrate all girls around the world.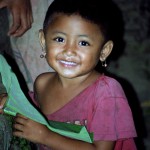 Photos:  Elizabeth Atalay
This is an original post written by Elizabeth Atalay for World Moms Blog.
How do you celebrate girls around the world?