Last year I spoke at the United Nations Foundation Shot@Life Summit to a room of almost 200 advocates for global vaccines from all over the country. I had a story to tell, as many of us do, though you might not know it. The story of how Polio touched the lives of so many goes back a couple of generations for most Americans, people forget how terrifying it was, was but if you speak with anyone who grew up before the Polio vaccine became available and mention the word Polio you can watch their eyes grow wide at the memory of the fear that gripped this nation. Try it. Ask your grandmother or grandfather, and I bet they have a story for you about how it touched their lives. This is the story I told:
"Every story begins and ends with a woman, a mother, a grandmother, a girl, a child, . Every story is a birth"….- Ishmael Beah Author of Long Way Gone & Radiance of Tomorrow & UNICEF Advocate
As a storyteller, and a mother to my four children that quote by Ishmael Beah really touches me. Because before I was a mother, I was of course a daughter. And the story of why I am here speaking to you today begins with her. my mother was born in 1922 , she was 45 when I was born, and a polio survivor. She stood all of 5'2" at a tilt, since Polio had left her with one leg slightly shorter than the other.
Eventually I would come to tower over her at 5'9″, and now that I am a mother myself I muse at how odd it must have been to have ended up with a daughter so much taller. While I was still a daughter, and before I became a mother, I was a traveler. I still think about the mothers who approached me as a westerner in my early twenties and held out their babies to me asking for medicine or a cure. If those babies survived they would be in their mid-twenties now, and surely not all did survive. Knowing what I know now I wish I could go back in time with a bag of medical supplies and give them whatever they needed, because the pleading looks in those mother's eyes haunt me to this day.
I never was a mother and a daughter at the same time. My mother passed away four months before my own first child was born. Though she had told me stories about having Polio as a child it never really resonated with me in the way it did once I became a mother myself. How terrified my grandmother must have been of losing her. And to be honest I hadn't really reflected on those mothers I met as a backpacker in my 20's until I became a mother myself, and then I remembered that helpless feeling I was left with when I did not know what to do to help them. When I joined shot@life as a champion in 2013 I was so grateful to finally have the opportunity to DO SOMETHING. To honor my mother's legacy as a Polio Survivor, and to help the mothers that I know are out there in developing countries desperate for proper healthcare, for lifesaving vaccines for their children that every mother should have access to.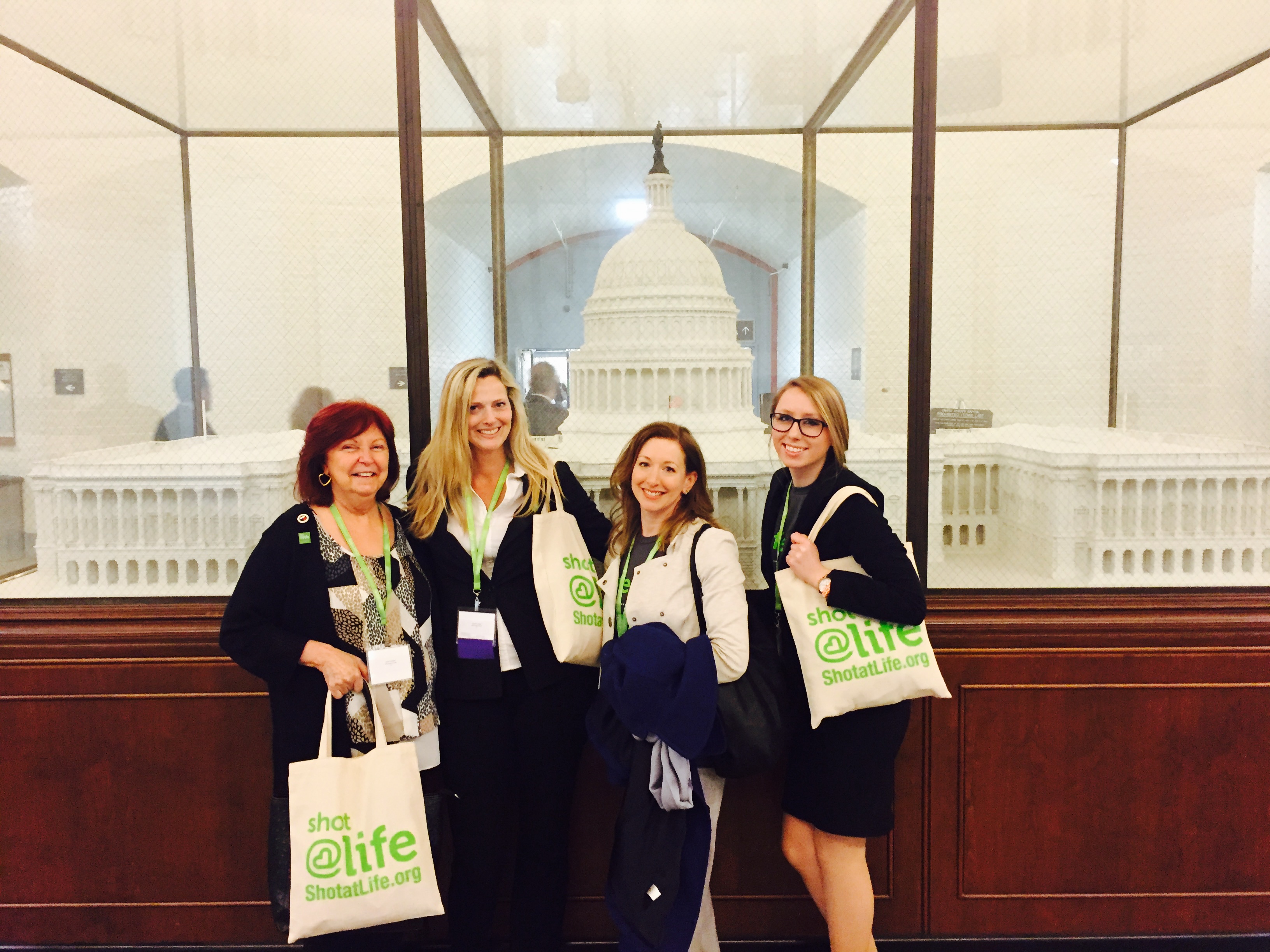 As excited as I was to join Shot@Life I have to confess that had I known that I was going to be visiting my government representatives on capitol hill that first year I attended the summit, I may never have joined. I had never done anything like that before. Yet, the next thing I knew I was hoofing it around capitol hill (in the wrong shoes…I might add…) advocating for Shot@life with my congressmen and Senators. I brought the messaging back to my community and realized how much work is still to be done just in terms of  awareness alone. There is so much misinformation and lack of awareness out there on vaccines.
In this country we take it for granted that our babies will not die from a simple case of diarrhea, but mothers in countries where they lack access to vaccines have lost, or know someone who has lost a baby to a vaccine preventable disease.
Every 20 seconds a baby dies from a vaccine preventable disease, mothers will walk for days to get vaccines when they can for their children. I realized there is a huge need to get the message out to the public.
So what can YOU do to make sure every child gets a fair Shot@life no matter where they are born?
Become a United Nations Foundation Shot@Life Champion, as a Champion here are a few ways to reach out to make an impact in your community that can ripple around the globe:
Contact or visit your local representatives and tell them that you care about their support of global health and global vaccines, and ask them to support these programs as well.
 Hold a party to get the word out, if you don't want to do it in your home there are so many companies that offer fun alternatives. In my community stores like Alex & Ani,  Pinkberry, and Flatbread Pizza will help you have a party on site to fundraise for your event.
Speak to local clubs, a local new neighbors club, Rotary or General Federation of Women's Clubs
Hold an event at your child's school or set up a booth during an international fair, take the opportunity to work the importance of vaccines into the broader issue of global awareness.
Use social media as a messaging tool for good by following and sharing information through Shot@Life social channels, Write op-eds, letters to the editor, blog posts, or articles for your local paper or magazine.
For World Pneumonia Day in November of 2015 I was paired up with Pediatrician Dr Mkope from Tanzania and at the National Press Club in Washington, DC we did over 20 radio and TV interviews! It was a great feeling knowing that the message of the importance of vaccines, with real life proof of efficacy from Dr. Mkope, was being broadcast so far and wide. At shot@life we say "a virus is just a plane ride away", and in a perfect example of this ever shrinking world, it turned out that Dr. Mkope is the pediatrician of the one friend I know in Tanzania.
Polio is still known to exist in only three countries in the world, the World Health Organization predicts that, with vaccines, it will be eradicated soon.
Every story is a birth, for my mother who survived Polio, for the mothers I met in central Africa with the pleading eyes, for my children and my children's children, what I have learned as a Shot@Life Champion is that we have the opportunity to shape this narrative on global health, together lets write this story to end with no child dying unnecessarily from a vaccine preventable disease.
A version of this post previously appeared on Documama.org
SaveSave
SaveSave
SaveSave
SaveSave
SaveSave
SaveSave